Home » Immigration
Top 10 Places to Retire in Canada (2013)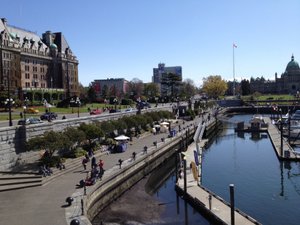 When you're thin­king about where to retire, are you thin­king about Canada ?
Cana­da may not come to mind as rea­di­ly as, say, Mexi­co, Cos­ta Rica, or the south of France, but plen­ty of people do retire to Cana­da from other coun­tries.
And many others, par­ti­cu­lar­ly Ame­ri­cans, choose to live in Cana­da part-time during their reti­re­ment years.
A rea­so­nable cost of living, good wea­ther (yes, real­ly!), and of course, rea­di­ly-avai­lable health care are all advan­tages of choo­sing Cana­da as a reti­re­ment destination.
Money­Sense maga­zine consi­ders these fac­tors and more – inclu­ding low taxes, low crime rates, ease of get­ting around on foot, and affor­dable homes – in their annual ran­king of Cana­da's Best Places to Retire.
Accor­ding to the Money­Sense 2013 ran­kings, the two top Cana­dian reti­re­ment des­ti­na­tions are on BC's Van­cou­ver Island – per­haps not unex­pec­ted, since BC ove­rall, and Van­cou­ver Island in par­ti­cu­lar, has the coun­try's mil­dest climate.
Many of the other top reti­re­ment spots for 2013 are in Onta­rio, which scores par­ti­cu­lar­ly high for cultu­ral acti­vi­ties and (at least out­side of Toron­to) for mode­rate living costs.
Here's the 2013 Money­Sense Best Places to Retire list :
Vic­to­ria, BC
Saa­nich, BC
King­ston, ON
Bur­ling­ton, ON
Otta­wa, ON
Toron­to, ON
Joliette, QC
Sas­ka­toon, SK
Strat­ford, ON
Win­ni­peg, MB
MSN Money recent­ly wei­ghed in with their own list of the Top 10 Cana­dian Cities to Retire. They've made some of the same picks as Money­Sense, but their list includes more lar­ger cities :
Owen Sound, ON
Cal­ga­ry, AB
Vic­to­ria, BC
Otta­wa, ON
Que­bec City, QC
Hali­fax, NS
Van­cou­ver, BC
Fre­de­ric­ton, NB
Toron­to, ON
Strat­ford, ON
If you're thin­king about reti­ring to Cana­da, we've com­pi­led some resources to help you get star­ted : How to Retire to Cana­da.
And please leave a com­ment if you have tips to share about reti­ring to Canada.
Vic­to­ria Inner Har­bour pho­to © Caro­lyn B. Heller