Home » Immigration
Top 10 Places to Retire in Canada (2013)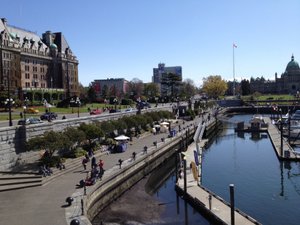 When you're think­ing about where to retire, are you think­ing about Canada?
Canada may not come to mind as read­i­ly as, say, Mexico, Costa Rica, or the south of France, but plen­ty of peo­ple do retire to Canada from oth­er coun­tries.
And many oth­ers, par­tic­u­lar­ly Americans, choose to live in Canada part-time dur­ing their retire­ment years.
A rea­son­able cost of liv­ing, good weath­er (yes, real­ly!), and of course, read­i­ly-avail­able health care are all advan­tages of choos­ing Canada as a retire­ment destination.
MoneySense mag­a­zine con­sid­ers these fac­tors and more — includ­ing low tax­es, low crime rates, ease of get­ting around on foot, and afford­able homes — in their annu­al rank­ing of Canada's Best Places to Retire.
According to the MoneySense 2013 rank­ings, the two top Canadian retire­ment des­ti­na­tions are on BC's Vancouver Island — per­haps not unex­pect­ed, since BC over­all, and Vancouver Island in par­tic­u­lar, has the coun­try's mildest climate.
Many of the oth­er top retire­ment spots for 2013 are in Ontario, which scores par­tic­u­lar­ly high for cul­tur­al activ­i­ties and (at least out­side of Toronto) for mod­er­ate liv­ing costs.
Here's the 2013 MoneySense Best Places to Retire list:
Victoria, BC
Saanich, BC
Kingston, ON
Burlington, ON
Ottawa, ON
Toronto, ON
Joliette, QC
Saskatoon, SK
Stratford, ON
Winnipeg, MB
MSN Money recent­ly weighed in with their own list of the Top 10 Canadian Cities to Retire. They've made some of the same picks as MoneySense, but their list includes more larg­er cities:
Owen Sound, ON
Calgary, AB
Victoria, BC
Ottawa, ON
Quebec City, QC
Halifax, NS
Vancouver, BC
Fredericton, NB
Toronto, ON
Stratford, ON
If you're think­ing about retir­ing to Canada, we've com­piled some resources to help you get start­ed: How to Retire to Canada.
And please leave a com­ment if you have tips to share about retir­ing to Canada.
Victoria Inner Harbour pho­to © Carolyn B. Heller