Home » Housing, Jobs, & Money
Cost of living in Canada: Canadian cities offer good value for expats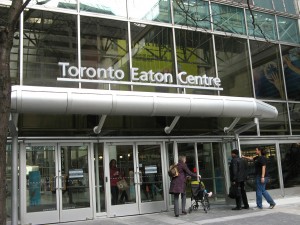 Is it cheaper to live in Luanda, Angola or Toronto, Canada?
If you guessed Luanda, you'd be wrong.
According to the Mercer 2011 Cost of Living Survey, an annual ranking of more than 200 cities across five continents, Luanda is the most expensive city in the world to live, followed by Tokyo, N'Djamena (Chad), Moscow, and Geneva.
In Canada, Toronto has the highest cost of living, but worldwide, it ranked #59, making it far cheaper than cities like Singapore (#8), Sydney (#14), and Shanghai (#21).
Among major Canadian cities, Vancouver followed Toronto at #65, Montreal was #79, and Calgary came in at #96.
What was Canada's least expensive city? Ottawa, the nation's capital, which ranked #114.
The Mercer survey compared the cost of over 200 items in each city, including housing, transport, food, clothing, household goods, and entertainment. You can read more about the survey on the Mercer website.
Toronto Eaton Centre photo ©Carolyn B. Heller