Home » Daily Life
American expat profile: Dayton Boots CEO Stephen Encarnacao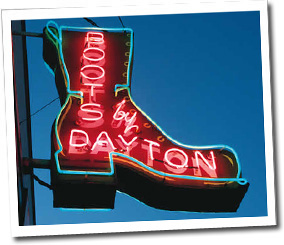 Born in New Bedford, Massachusetts, Stephen Encarnacao relo­cated to Vancouver when he took the helm of Dayton Boots, which has been mak­ing clas­sic (and now trendy) footwear in Vancouver since the 1940s. The company's small flag­ship store is on East Hastings Street, in the city's Hastings-​​Sunrise neigh­bor­hood east of downtown.
Scout Magazine recently inter­viewed Encarnacao, a for­mer Reebok exec who is now pres­i­dent and CEO of the boot maker, about life in Vancouver, includ­ing his favorite cof­fee shops, green spaces, and the things that sur­prise him most about the city.
You can read the com­plete inter­view here.
Photo ©Dayton Boot Co.