Home » Daily Life
Canada's top 10 cities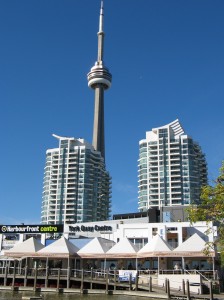 Perhaps it's no sur­prise that Toronto, Montreal, and Vancouver rank as Canada's top three largest met­ro­pol­i­tan areas.
But recent stats from Statistics Canada show that Calgary has over­taken the national cap­i­tal, Ottawa, as Number 4.
The national pop­u­la­tion of Canada has also increased, as of 2009.
The country's pop­u­la­tion is now 33,739,900 — about one-​​tenth as large as the United States, which is home to more than 308 mil­lion people.
Here are the lat­est pop­u­la­tion fig­ures for Canada's 10 largest met­ro­pol­i­tan areas:
Toronto (ON)        5,623,500
Montreal (QC)      3,814,700
Vancouver (BC)    2,328,000
Calgary (AB)         1,230,200
Ottawa (ON)         1,220,700
Edmonton (AB)    1,155,400
Quebec City (QC)    746,300
Winnipeg (MB)        742,400
Hamilton (ON)         739,400
London (ON)           489,300
Toronto sky­line photo ©Carolyn B. Heller