Home » Culture
Political correctness: More American or Canadian?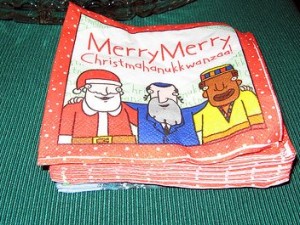 Before I moved to Canada, I used to think that the U.S. had the monop­oly on polit­i­cal cor­rect­ness. At least in New England where I lived, every­one wishes you "Happy Holidays," instead of "Merry Christmas" or "Happy Hanukkah" or "Good Kwanzaa" or whatever.
But it turns out that even more Canadians sup­port the con­cept of polit­i­cal cor­rect­ness.
According to a recent Angus Reid Public Opinion poll, 50 per­cent of Canadians sur­veyed believe in polit­i­cal cor­rect­ness — defined as "lan­guage and/​or behav­ior that seeks to min­i­mize pos­si­ble offenses to racial, cul­tural and gen­der iden­tity groups, among others."
In con­trast, 45 per­cent of Americans oppose polit­i­cal cor­rect­ness, while 41 per­cent sup­port it.
Is that funny?
While in both coun­tries, a sig­nif­i­cant major­ity of respon­dents said that it's impor­tant for teach­ers, politi­cians, and jour­nal­ists to behave in a polit­i­cally cor­rect way, come­di­ans get a lot more lee­way. Only 25% of Canadians, and 31% of Americans, think that come­di­ans must be polit­i­cally correct.
However, the sur­vey found "strik­ing dif­fer­ences in the way the two coun­tries feel about the accept­abil­ity of jokes deal­ing with spe­cific top­ics."
Even though more Canadians say they believe in being polit­i­cally cor­rect, Canadians are more will­ing than Americans to be OK with jokes about phys­i­cal appear­ance (54% in Canada, 46% in the U.S.), race (54% in Canada, 42% in the U.S.), obe­sity (53% in Canada, 45% in U.S.), and eth­nic ori­gin (59% in Canada, 46% in the U.S.).
And almost two-​​thirds of Canadians (63%) see no prob­lem mak­ing jokes about reli­gion, while less than half of Americans (46%) concur.
In my expe­ri­ence, Canadians are also a lot more likely to wish you "Merry Christmas" than "Happy Holidays." Is this soci­ety that highly val­ues mul­ti­cul­tur­al­ism less con­cerned about offend­ing var­i­ous cul­tures? What do you think? Post a com­ment below.
And you can get more details about the Angus Reid sur­vey from VisionCritical​.com.
Photo by NatalieMaynor (flickr)