Home » Featured, Housing, Jobs, & Money, Immigration
Best Places to Live: Canada's Top 10 Cities (2013)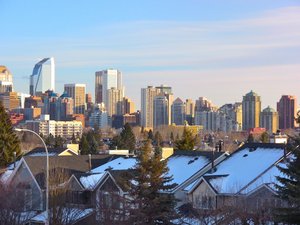 Every year, Moneysense rates Canada's Best Places to Live, weigh­ing fac­tors as diverse as weath­er, incomes and tax­es, job prospects, access to health care, home afford­abil­i­ty, crime rates, and over­all lifestyle, includ­ing the per­cent­age of peo­ple who walk or bike to work.
In their 2013 report, they've grouped their find­ings by city size, list­ing Canada's Top 10 Large Cities, Top 10 Mid-sized Cities, and Top 10 Small Cities.
This year, Calgary edged out Ottawa for the top spot among large cities, for its boom­ing job mar­ket and laid-back lifestyle. Though con­sis­tent­ly rat­ed one of the most beau­ti­ful cities in Canada, Vancouver ranked last among the large cities on the 2013 Moneysense list, because the cost of liv­ing (par­tic­u­lar­ly hous­ing) is the nation's highest.
Several Ontario com­mu­ni­ties — most in the "Golden Horseshoe" sur­round­ing Toronto — ranked high among the mid-sized cities, earn­ing good marks for well-pay­ing jobs and access to cul­tur­al and arts activ­i­ties. Alberta dom­i­nat­ed the list of best small­er cities; despite the harsh win­ter weath­er, res­i­dents in these com­mu­ni­ties enjoy afford­able hous­ing, low unem­ploy­ment, and com­par­a­tive­ly high incomes.
Canada's top 10 large cities for 2013 are:
Edmonton, AB
London, ON
Winnipeg, MB
Halifax, NS
Mississauga, ON
The top 10 mid-sized cities in Canada are:
Burlington, ON
Oakville, ON
Saanich, BC
Lethbridge, AB
Saskatoon, SK
Regina, SK
Kingston, ON
Vaughan, ON
Richmond Hill, ON
Lévis, QC
Among Canada's small­er com­mu­ni­ties, the top 10 small cities include:
St. Albert, AB
Strathcona County, AB
Lacombe, AB
Newmarket, ON
Halton Hills, ON
Stratford, ON
Boucherville, QC
North Vancouver, BC
Milton, ON
Canmore, AB
For more infor­ma­tion on the MoneySense sur­vey, check out the Best Places to Live 2013 list.