Home » Featured, Housing, Jobs, & Money
Need a job? Come to Canada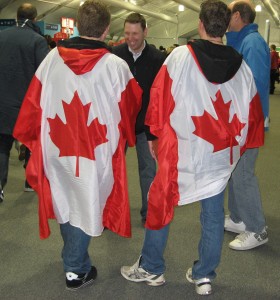 Canada has been getting a lot of love from the U.S. media lately. As the U.S. economy continues to flounder, the American press is saying, "Go North!"
Stubbornly high unemployment rates got you down? Not sold on the economic recovery? Look no further than America's polite neighbor to the north, where jobs numbers are surging and home prices have been rising steadily for nearly a year.
That's what the Huffington Post wrote recently in Need A Job? Try Canada, Where Hiring Is Booming And Home Prices Are Rising.
The Huff Post article also noted that "last month, Canada, a nation with roughly one tenth of our population, created about 10,000 more new jobs than America."
Similarly, in "Canada's economy can teach the U.S. a thing or two," the Los Angeles Times contends that  "…on healthcare, as well as on such critical issues as the deficit, unemployment, immigration and prospering in the global economy, Canada seems to be outperforming the United States. And in doing so, it is offering examples of successful strategies that Americans might consider."
The LA Times article goes on to suggest that
…as Americans continue their grueling battle over immigration, Canadians have united behind a policy that emphasizes opening the door to tens of thousands of skilled professionals, entrepreneurs and other productive workers who have played an important role in strengthening the Canadian economy.
So perhaps it's not surprising that older, well-educated immigrants are increasing choosing to come to Canada, rather than the U.S.
In fact, a recent Ipsos Reid/Historica-Dominion Institute poll, which surveyed nearly 18,000 people in 24 countries, found that "a majority (53%)…say they'd live in Canada if they had an opportunity to move."
And that same poll reported that almost one-third (30%) of Americans would choose to relocate to Canada, if they could.
Among the factors that survey respondents cited about the benefits of life in Canada include:
Nearly 80 percent agreed that Canadians enjoy one of the best qualities of life anywhere in the world.
Most respondents (72%) believe that Canada is welcoming to immigrants.
Eight in ten respondents describe Canada as being tolerant of people from different racial and cultural backgrounds.
What do you think? Have you relocated to Canada for work? Are you thinking about moving to Canada for economic reasons? Leave a comment and let us know.
Canadian fans photo ©Carolyn B. Heller