Home » Immigration
Top 10 Places to Retire in Canada (2013)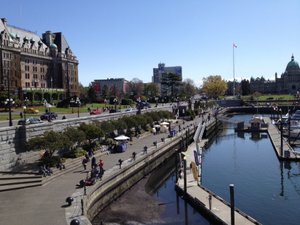 When you're thinking about where to retire, are you thinking about Canada?
Canada may not come to mind as readily as, say, Mexico, Costa Rica, or the south of France, but plenty of people do retire to Canada from other countries.
And many others, particularly Americans, choose to live in Canada part-time during their retirement years.
A reasonable cost of living, good weather (yes, really!), and of course, readily-available health care are all advantages of choosing Canada as a retirement destination.
MoneySense magazine considers these factors and more — including low taxes, low crime rates, ease of getting around on foot, and affordable homes — in their annual ranking of Canada's Best Places to Retire.
According to the MoneySense 2013 rankings, the two top Canadian retirement destinations are on BC's Vancouver Island — perhaps not unexpected, since BC overall, and Vancouver Island in particular, has the country's mildest climate.
Many of the other top retirement spots for 2013 are in Ontario, which scores particularly high for cultural activities and (at least outside of Toronto) for moderate living costs.
Here's the 2013 MoneySense Best Places to Retire list:
Victoria, BC
Saanich, BC
Kingston, ON
Burlington, ON
Ottawa, ON
Toronto, ON
Joliette, QC
Saskatoon, SK
Stratford, ON
Winnipeg, MB
MSN Money recently weighed in with their own list of the Top 10 Canadian Cities to Retire. They've made some of the same picks as MoneySense, but their list includes more larger cities:
Owen Sound, ON
Calgary, AB
Victoria, BC
Ottawa, ON
Quebec City, QC
Halifax, NS
Vancouver, BC
Fredericton, NB
Toronto, ON
Stratford, ON
If you're thinking about retiring to Canada, we've compiled some resources to help you get started: How to Retire to Canada.
And please leave a comment if you have tips to share about retiring to Canada.
Victoria Inner Harbour photo © Carolyn B. Heller