Home » Culture
What the world is saying about Canada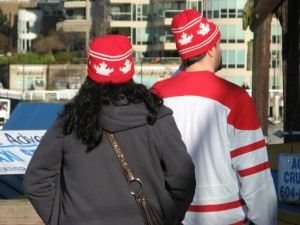 With the world's atten­tion focused on the 2010 Winter Olympics in Vancouver, com­men­ta­tors every­where are talk­ing about Canada — Canadian life and cul­ture, how Canada com­pares to the U.S., and more.
Here's a sampling:
Forbes​.com asks: Is this The Canadian Century?
"…The 21st cen­tury is shap­ing up great for the Canucks," thanks to a sta­ble bank­ing sys­tem, plenty of nat­ural resources, and a strong hous­ing mar­ket, among oth­ers. See all "10 rea­sons why Canada is cheer­ing."
Is Canada too mod­est? Commentator Timothy Egan, blog­ging for the New York Times Opinionator, writes:
Why the lack of self-​​esteem? Canada — snap out of it! You're gor­geous, baby, you're sophis­ti­cated, you live well.

.…Vancouver is Manhattan with moun­tains. It's a liq­uid city, a tomor­row city, equal parts India, China, England, France and the Pacific Northwest. It's the cool North American sib­ling. If only, and this holds true for the rest of Canada, it didn't feel the need to blush.
In Village Green: Vancouver's medal-​​worthy Olympic Village, The Huffington Post says that the place to live post-​​Olympics will be in Vancouver's new Olympic Village neighborhood:
Vancouver's civic lead­ers believe that the athlete's vil­lage built for the 2010 Olympic Winter Games, and the planned neigh­bor­hood that will sur­round it, will be one of the very green­est neigh­bor­hoods in North America.  I am inclined to agree.
And it's not just Vancouver, says Shelter Offshore, which asks Could You be Happier Retiring in Canada?
If you're look­ing for a decent stan­dard of liv­ing for a fair price, a laid back yet sophis­ti­cated coun­try, a place where you can grow old grace­fully and with dig­nity, a nation with lively towns and cities and plenty of stun­ning nat­ural attrac­tions – then yes, Canada could be the right choice for you.
(Want more about retire­ment in Canada? Here's our ear­lier post on the Top 10 Places to Retire in Canada.)
And on the lighter side, the New York Times also weighs in with It's Not Political, but More Canadians Are Lefties:
What is the dif­fer­ence between a Canadian and an American? The old ques­tion is com­ing up again here at the Olympics, with answers involv­ing eager­ness for war, ketchup, the pro­nun­ci­a­tion of toque or the abil­ity to iden­tify pou­tine and the Tragically Hip.

But none may be so sim­ple as how one holds a hockey stick. According to sales fig­ures from stick man­u­fac­tur­ers, a major­ity of Canadian hockey play­ers shoot left-​​handed, and a major­ity of American play­ers shoot right-​​handed.

No rea­son is known for this dis­par­ity, which cuts across all age groups and has per­sisted for decades.
Happy read­ing!
Photo ©Carolyn B. Heller