Home » Featured, Housing, Jobs, & Money
Canada's top employers for new immigrants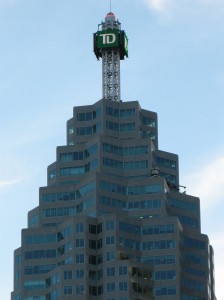 New to Cana­da and loo­king for work ?
Check out Media­corp Cana­da's list of the 2010 Best Employers for New Cana­dians.
Among the indus­tries well-repre­sen­ted on this « best employers » list are ban­king and finan­cial ser­vices, health care, and energy/utilities.
Ban­king and finan­cial services :
BMO Finan­cial Group
Busi­ness Deve­lop­ment Bank of Canada
Cana­dian Impe­rial Bank of Commerce
Deloitte & Touche LLP
Export Deve­lop­ment Canada
KPMG LLP
Manu­life Finan­cial Corporation
Maple Trade Finance Inc.
TD Bank Finan­cial Group
Health care :
McGill Uni­ver­si­ty Health Centre
Mount Sinai Hospital
Pro­vi­dence Health Care
Sas­ka­toon Health Region
St. Michael's Hospital
Van­cou­ver Coas­tal Health Authority
Energy/utilities :
BC Hydro
Ener­gy Resources Conser­va­tion Board
Ener­mo­dal Engi­nee­ring Ltd.
EPCOR Uti­li­ties Inc.
Sas­kE­ner­gy Incorporated
Syn­crude Cana­da Ltd.
Trans­Ca­na­da Corporation
How did these com­pa­nies qua­li­fy as the best places for new immi­grants to work ? The sur­vey consi­de­red the fol­lo­wing factors :
The com­pa­ny offers pro­grams to assist employees who are recent immi­grants to Canada.
They have taken steps to reduce employ­ment bar­riers for recent immi­grants, such as by reco­gni­zing forei­gn edu­ca­tio­nal cre­den­tials and experience.
They assist new employees who have forei­gn pro­fes­sio­nal or edu­ca­tio­nal cre­den­tials in get­ting these qua­li­fi­ca­tions for­mal­ly reco­gni­zed in Canada.
They offer « onboar­ding » pro­grams, such as inter­nal coa­ching or men­to­ring, to help new employees who are recent immi­grants unders­tand the Cana­dian workplace.
Mana­gers and employees receive trai­ning in cross-cultu­ral issues or inclu­si­ve­ness to help create a wel­co­ming and pro­duc­tive envi­ron­ment for employees who are recent immigrants.
Get the com­plete list of com­pa­nies from the 2010 Best Employers for New Canadians.
And for more « best employer » lists, see Cana­da's Top Employers, Cana­da's Top 25 Fami­ly-friend­ly Employers, and Bri­tish Colum­bia's Top 100 Com­pa­nies.

Pho­to ©Carolyn B. Heller