Home » Featured, Housing, Jobs, & Money
Need a job? Come to Canada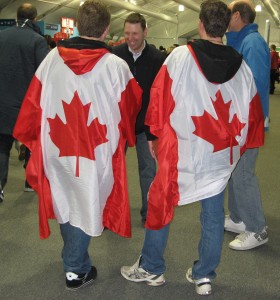 Canada has been get­ting a lot of love from the U.S. media late­ly. As the U.S. econ­o­my con­tin­ues to floun­der, the American press is say­ing, "Go North!"
Stubbornly high unem­ploy­ment rates got you down? Not sold on the eco­nom­ic recov­ery? Look no fur­ther than America's polite neigh­bor to the north, where jobs num­bers are surg­ing and home prices have been ris­ing steadi­ly for near­ly a year.
That's what the Huffington Post wrote recent­ly in Need A Job? Try Canada, Where Hiring Is Booming And Home Prices Are Rising.
The Huff Post arti­cle also not­ed that "last month, Canada, a nation with rough­ly one tenth of our pop­u­la­tion, cre­at­ed about 10,000 more new jobs than America."
Similarly, in "Canada's econ­o­my can teach the U.S. a thing or two," the Los Angeles Times con­tends that "…on health­care, as well as on such crit­i­cal issues as the deficit, unem­ploy­ment, immi­gra­tion and pros­per­ing in the glob­al econ­o­my, Canada seems to be out­per­form­ing the United States. And in doing so, it is offer­ing exam­ples of suc­cess­ful strate­gies that Americans might consider."
The LA Times arti­cle goes on to sug­gest that
…as Americans con­tin­ue their gru­el­ing bat­tle over immi­gra­tion, Canadians have unit­ed behind a pol­i­cy that empha­sizes open­ing the door to tens of thou­sands of skilled pro­fes­sion­als, entre­pre­neurs and oth­er pro­duc­tive work­ers who have played an impor­tant role in strength­en­ing the Canadian economy.
So per­haps it's not sur­pris­ing that old­er, well-edu­cat­ed immi­grants are increas­ing choos­ing to come to Canada, rather than the U.S.
In fact, a recent Ipsos Reid/Historica-Dominion Institute poll, which sur­veyed near­ly 18,000 peo­ple in 24 coun­tries, found that "a major­i­ty (53%)…say they'd live in Canada if they had an oppor­tu­ni­ty to move."
And that same poll report­ed that almost one-third (30%) of Americans would choose to relo­cate to Canada, if they could.
Among the fac­tors that sur­vey respon­dents cit­ed about the ben­e­fits of life in Canada include:
Nearly 80 per­cent agreed that Canadians enjoy one of the best qual­i­ties of life any­where in the world.
Most respon­dents (72%) believe that Canada is wel­com­ing to immigrants.
Eight in ten respon­dents describe Canada as being tol­er­ant of peo­ple from dif­fer­ent racial and cul­tur­al backgrounds.
What do you think? Have you relo­cat­ed to Canada for work? Are you think­ing about mov­ing to Canada for eco­nom­ic rea­sons? Leave a com­ment and let us know.
Canadian fans pho­to ©Carolyn B. Heller