Home » Housing, Jobs, & Money
Vancouver real estate: Bubble or not?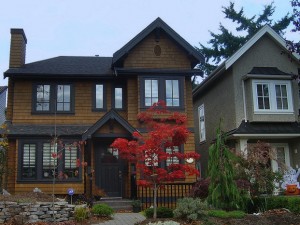 Anyone who's been think­ing about relo­cat­ing to Vancouver — or any­one try­ing to find a place to live in B.C.'s largest city — can't help but won­der about local real estate prices.
The cur­rent aver­age price for a house in met­ro­pol­i­tan Vancouver is near­ly $800,000, accord­ing to the Real Estate Board of Greater Vancouver.
And if you're hop­ing to live on Vancouver's West Side, pre­pare to spend dou­ble that amount. Westside detached homes are now aver­ag­ing almost $1.7 mil­lion.
With prices this high, per­haps it's not sur­pris­ing that a recent Globe & Mail arti­cle won­dered, "Is Vancouver in a real estate bub­ble?"
Yet despite the head­line, the arti­cle gives rel­a­tive­ly lit­tle space to real estate price trends and much more ink to the effect of over­seas buy­ers, par­tic­u­lar­ly those from Asia, on Vancouver's real estate mar­ket.
Of course, Vancouver's pop­u­lar­i­ty with wealthy Chinese investors isn't news. The Globe & Mail piece acknowl­edges as much and argues that:
The tor­rid affair between east­ern Asia and Vancouver real estate, now in its third decade, is actu­al­ly a love tri­an­gle from which each par­ty derives very dif­fer­ent things.

When wealthy Chinese immi­grants buy prop­er­ty in Vancouver — and they utter­ly dom­i­nate the top end of the mar­ket — they're actu­al­ly buy­ing a form of insur­ance.

What the fed­er­al and provin­cial gov­ern­ments get out of these new­ly mint­ed Canadians turns out to be a mod­ern form of the infa­mous head tax that was imposed on Chinese migrants in the 19th cen­tu­ry.

And what Vancouver gets is an econ­o­my that boasts a lot of froth, and not much sub­stance.
Since Vancouver is con­sis­tent­ly ranked among the best places in the world to live, per­haps it's not sur­pris­ing, as the Globe arti­cle says, that "Vancouver is pop­u­lar as a lifestyle des­ti­na­tion for those who can afford it — not as a place to make a liv­ing. More ambi­tious immi­grants, Asian and oth­er­wise, are more like­ly to choose Toronto."
In fact, British Columbia (which essen­tial­ly means Greater Vancouver) receives about 15% of all Canadian immi­grants, which, giv­en its pop­u­la­tion, is only slight­ly more than its pro­por­tion­al share.

On the oth­er hand, it gets about half of the annu­al 10,000 or so peo­ple who can prove they are already wealthy and there­fore eli­gi­ble for eas­i­er, if more expen­sive, rides in the entre­pre­neur and investor class­es. And the rest of Vancouver's 15% share fits a dis­tinct­ly dif­fer­ent pro­file than do immi­grants to places like Toronto and Montreal: more skilled and bet­ter edu­cat­ed, and much less like­ly to arrive as refugees.
Perhaps Vancouver is becom­ing such a cool place to live that — as in oth­er high-priced cities like New York or Paris — peo­ple will squeeze into ever-tinier spaces to live the "Vancouver lifestyle."
What do you think? Is the Vancouver real estate mar­ket in a "bub­ble" that's going to burst?
Or will Vancouver con­tin­ue to be a wild­ly pop­u­lar place to live, regard­less of the hous­ing costs?
Leave a com­ment and let us know. And please post tips for new­com­ers to Vancouver who are look­ing for an afford­able place to live! Thanks.
* * * * *
UPDATE: According to the RE/​MAX Housing Market Outlook 2011, res­i­den­tial home prices are expect­ed to climb fur­ther across Canada in the com­ing year. In addi­tion, "Markets in British Columbia are fore­cast to lead the coun­try in terms of per­cent­age increas­es in sales activ­i­ty next year, with Greater Vancouver expect­ed to climb 10 per cent…" Bubble or not?
Vancouver house pho­to by pnwra (flickr)